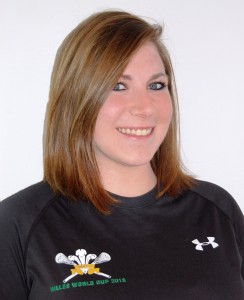 Erin is an international lacrosse player, playing in goal for both Wales and Cambridge Blues.  As co-captain she has led Cambridge to two national University championships and is also president of Ospreys, the society  for sportswomen at Cambridge. Erin is currently studying for her PhD in history.
Erin won a European Silver Medal with Wales in 2012 and was part of the all-Europe Team in the same year.  She will be playing in the Lacrosse World Cup in 2013.
Why does women's sport matter?
Sport in general matters differently to different people, so it's difficult to pinpoint one or even a few reasons. For me, sport has provided an outlet for growth. It has made me strong and healthy, both mentally and physically; it has shown me what hard work is and how to constructively handle adversity, and given me confidence, happiness, and even a sense of purpose. I have made friendships, had educational and career opportunities, and have travelled, all because of sport. Whether a sportswoman competes at an elite level or uses these qualities gained from sport in other realms of life, it can only be a good thing. This is an oversimplification, but women's sport matters because all this should be available to and encouraged for everyone, regardless of gender.
Who do you see as a role model in women's sport and why?
So many women to mention here, so little time! I'm in a lucky situation in that I get to train and play with women I would definitely consider role models for myself and for the wider lacrosse and sport community. Each in their own way, my teammates lead and drive me to be the best player, teammate, and person I can be.
Having role models in the sports I played growing up went a long way in the development of my own game, knowing that there were all these women who loved the sports I loved and were considered strong, powerful, and accomplished as a result of it. With lacrosse, the names might not be famous on a wider scale, but within the lacrosse community they are huge. What is great about lacrosse is that younger girls are constantly exposed to the best players, with the development camp and coaching systems being very hands-on and overlapping significantly with the wider desire to grow and advance the game. This is one of the reasons I love coaching so much now—I have experienced first-hand how important it is for younger girls to see that there are women like them who are successful, and it's great to give back.
I also think sportswomen like Megan Rapinoe are doing great things for not only women's sport, but sport in general and society overall.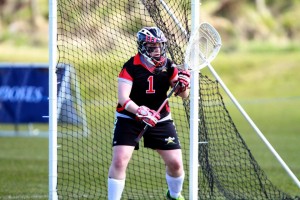 What one thing would you change to advance women's sport in the UK?
A common argument heard around about the value of women's sport sounds something like 'why watch a slower women's game if we could watch a faster men's game? Women's sport isn't important because no one wants to watch it.' Firstly, we need to get away from these comparisons to men's sport. They should, and can, exist together! Secondly, sports should not just be valued by who watches them. During the Women's Football World Cup in 2011, there was boasting about how the final (USA v Japan) broke records in television viewership. All that is fantastic, but I was intrigued by how many people seemed very surprised by that. This completely overlooked and took away from the fact that soccer is probably the biggest sport for women in the US, with millions of girls and women playing or have played the game. Women's soccer didn't get big in the US when people decided it was time to watch it in sports bars—it already was huge.
So whilst increasing television and other media coverage is critical and I do not by any means want to undermine it, I'd love to redirect the central focus away from the value of sport being in spectator attention. If we do that, we can see that women's sport is already bigger and more influential than many think it is. Certainly the big money in viewership, but this shouldn't make that the only barometer. To those of us who play, the value is in the hard work, the camaraderie, the glory, the personal gain—everything that sport provides regardless of gender. The Women's Lacrosse World Cup will get limited media coverage this summer, but does that mean we haven't been putting everything we have into training, or dreaming about this our whole lives? In a society where we are constantly telling girls not to worry about what others think about them, and to be their own person, we should not base the value of their sport on what other people think of it.